SMP Welding prides itself on offering one of a kind projects and solutions to its customers. Below are some ways SMP Welding has been able to take what others see as a problem and turn them into successful solutions that where executed in a creative way.
A nation wide waste and recycling company is required to have a complete overhaul of their main bailer which could only be shut down for one week. SMP Welding was chosen to coordinate these efforts. Our crews worked around the clock dismantling and refurbishing all of the major wear items on the interior of the bailer as well as coordinating the transportation and reinstallation of the machine's major components. SMP Welding successfully completed the project on schedule and under budget.
A world wide paper and adhesives company was faced with the issue of safely and ergonomically moving materials. SMP Welding engineered a functional concept and has since fabricated multiple units that are currently in use satisfying the clients needs.
A local braided hose machine manufacturer needed to reduce the decibel level produced by their machines. SMP Welding designed and fabricated sound enclosures that surrounded the machinery, drastically reducing the noise level in the facility. SMP Welding continues to fabricate multiple sizes of these enclosures as the customer expands their business.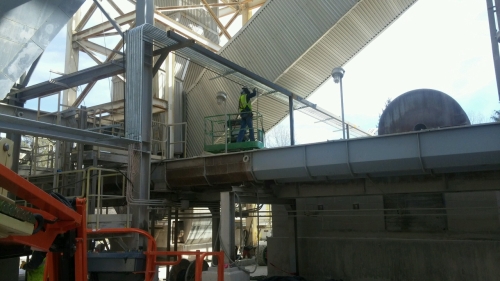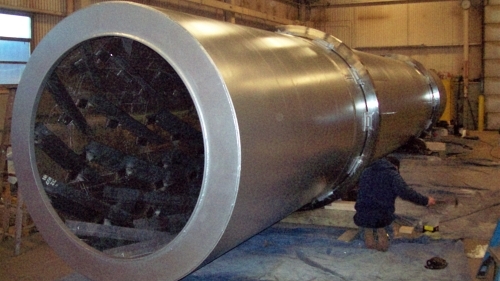 Platform – Grand River, OH
Mixer Repair – Twinsburg, OH
Abresist Piping – Gary, IN
Steam Repair – Fairport, OH
Crane Relocation – Mentor OH
Hot Water Tank – Painesville, OH
Structural Steel – Gary IN
Mill Classifier – Buchanan, VA
Elevator Casing – Ft Calhoun, NE
Stairways and Railing – Cleveland, OH
Repair Security Gate – Mayfield, OH
Roof Reinforcements – Painesville, OH
Conveyor Belts – Baltimore, MD
Hoppers – Philadelphia, PA
Structural Steel – Minneapolis MN
Festoon Replacement – Fort Myers, FL
Install Steam Air Coils – Minneapolis MN
Crane Bumpers – Bristol, CT
Install Festoon track and bridge – Fairfax, VA
Repair/Reinstall Crane Hoist – Chester, PA
Splice Bars – Honolulu, HI
Replace Festoon – Indianapolis, IN
Crane Inspections – Brooks, OR
Crane Inspection – Boston, MA
Crane Inspection – Camden, NJ
Crane Inspections - Dickerson, MD
Screen Replacement - Voca, TX
Baghouses – Martinsburg, WV